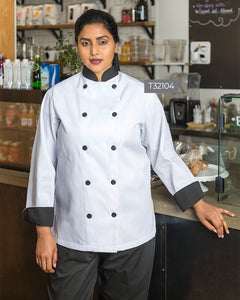 Spun Poly Chef Coats. T32104
Regular price $34.95 Sale
SKU# T32104 - Plastic Buttons
Priced to offer maximum value, this popular Econo design has been enhanced through the use of Spun Polyester that feels as comfortable as cotton. With a handy split-pocket on the sleeve and a choice of Plastic or Knot Buttons, it delivers the kind of style and durability that can always be counted upon to look, feel and perform great.
Regular S-5XL.
100% Spun Poly in 7.0 oz. Twill Fabric.
Available in White
Click HERE to contact us about a custom order
Discount on volume orders. Please enter information about your customization request in the email and a Jastex representative will contact you. If your request includes an image please attach it in vector format if possible.