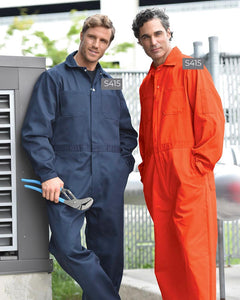 Poly/Cotton Coveralls. S415
Regular price $43.00 Sale
SKU# S415
Designed to maximize comfort without sacrificing durability and performance, these coveralls offer lasting wear and ease of accessibility that is perfect for a wide range of demanding workplaces. Features a concealed two-way zipper, dome closures at the cuffs and collar, convenient side vent openings, and multiple pockets across the body.
65/35 Poly/Cotton 7.25-oz. Twill Fabric
Sizes range from 36-60 (Regular), 42-60 (Tall)
Click HERE to contact us about a custom order
Discount on volume orders. Please enter information about your customization request in the email and a Jastex representative will contact you. If your request includes an image please attach it in vector format if possible.