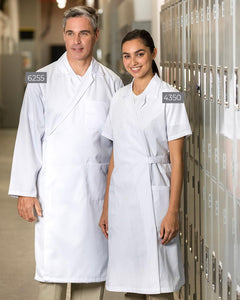 Men's Wraparound Coats. 6300. 6295. 6255.
Regular price $36.95 Sale
Made from 100% spun polyester, this fabric offers a smooth feel, just like cotton, with the durability and performance of polyester. Our Wraparound Coats feature two side ties to ensure a snug, comfortable fit, and are offered in options without pockets, or with pockets for added utility.
100% Spun Polyester 7.1-oz. Twill Fabric
Sizes range from XS-5XL
Style #: 6300 – No Pockets
Style #: 6295 – 2 Pockets
Style #: 6255 – 3 Pockets
Click HERE to contact us about a custom order
Discount on volume orders. Please enter information about your customization request in the email and a Jastex representative will contact you. If your request includes an image please attach it in vector format if possible.