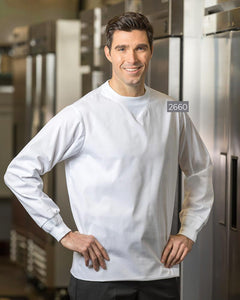 Food Industry Crew-Neck Shirt. 2660
Regular price $31.95 Sale
Style #: 2660
This versatile Crew-Neck Shirt offers the convenience of a snap-free pullover with the durability of a poly/cotton blended poplin. It features a knit collar, knit cuffs, and a generous cut for a comfortable and flexible fit.
65/35 Poly/Cotton 4.5-oz. Poplin Fabric
Sizes range from XS-4XL (Regular), MD-5XL (Tall)
Available in White 
Click HERE to contact us about a custom order
Discount on volume orders. Please enter information about your customization request in the email and a Jastex representative will contact you. If your request includes an image please attach it in vector format if possible.