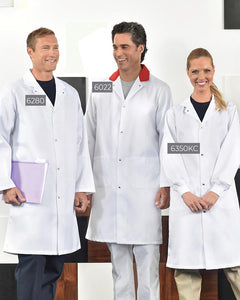 Food Industry Long Coats. Assorted Colours. 6350. 6023. 6021. 6022. 6020.
Regular price $28.00 Sale
A full selection of duty-tested designs for dedicated service in a wide variety of applications. From food service to medical, pharmaceutical and food preparation, our Long Coats offer the ideal combination of comfort, fit, and long-lasting wear. Made from 100% spun polyester twill fabric, each long coat style is also offered with optional white knit cuffs or distinctive contrast collar trim.
100% Spun Polyester 7.1-oz. Twill Fabric
Sizes range from XS-5XL
Style #: 6350 – 2 Inside Lower Pockets
Style #: 6023 – 3 Inside Pockets
Style #: 6021 – 2 Outside Lower Pockets, 1 Inside Chest Pocket
Style #: 6022 – 2 Outside Lower Pockets
Style #: 6020 – 3 Outside Pockets
Click HERE to contact us about a custom order
Discount on volume orders. Please enter information about your customization request in the email and a Jastex representative will contact you. If your request includes an image please attach it in vector format if possible.