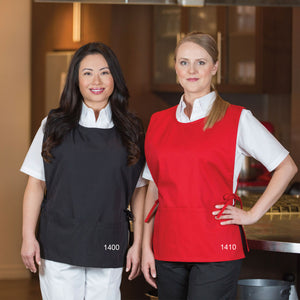 Cobbler Apron. 1400, 1410.
Regular price $15.95 Sale
Light Weight Cobbler Apron
This popular multi-purpose style, cut from lighter fabric, offers all of the same beneficial features as the Heavier Weight Apron.
18" Wide x 28" Long.
65/35 Poly/Cotton in 4.5 oz Poplin Fabric
1400
Available in Black, Navy, Royal Blue, or Red.
Heavy Weight Cobbler Apron
A classic flat front apron that offers substantial weight to maintain its clean lines and uniform appearance. Two large lower pockets and a pen pocket increase its utility and convenience. Two strong self-ties, situated at the sides, adjust easily for maximum preferred comfort.
18" Wide x 28" Long.
65/35 Poly/Cotton in 7.25 oz Twill Fabric
1410
Available in Black, Hunter Green, Navy, Red or Royal Blue.
Click HERE to contact us about a custom order
Discount on volume orders. Please enter information about your customization request in the email and a Jastex representative will contact you. If your request includes an image please attach it in vector format if possible.