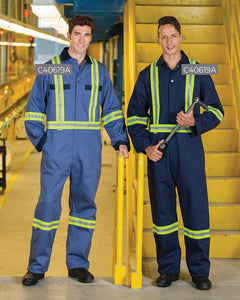 100% Cotton Zipper Front Coveralls With 2″ Reflective Tape. C40619A
Regular price $115.00 Sale
Designed with full coverage in mind, this coverall features reflective tape stripes down the front, across the back, and around the waist, arms, and legs. It allows for easy accessibility with the two-way zipper and upper-front snap closure. The relaxed cut is comfortable and allows for layering. This coverall also boasts reinforced stress and anchor points, chest pockets and adjustable sleeve cuffs.

100% Cotton 8.5-oz. Twill Fabric
Sizes range from 36-60 (Regular), 42-60 (Tall)
Style #: C40619A – Straight Back, Adjustable Cuffs
Click HERE to contact us about a custom order
Discount on volume orders. Please enter information about your customization request in the email and a Jastex representative will contact you. If your request includes an image please attach it in vector format if possible.