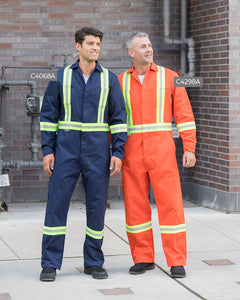 100% Cotton Button Front Coveralls With 2″ Reflective Tape. C4068A. C4298A.
Regular price $133.95 Sale
Undoubtable protection and full visibility with two-toned reflective tape covering all around the body, these high-visibililty cotton coverall options cater to all your needs. These coveralls feature multiple pockets throughout the garment, and a concealed metal button front.
100% Cotton 8.5-oz. Twill Fabric
Sizes range from 36-60 (Regular), 42-60 (Tall)
Style #: C4068A – Straight Back, Adjustable Cuffs
Available in Navy, and Postman Blue with Navy Trim
Style #: C4298A – Action-Back, Split Cuffs
Only Available in Orange
Click HERE to contact us about a custom order
Discount on volume orders. Please enter information about your customization request in the email and a Jastex representative will contact you. If your request includes an image please attach it in vector format if possible.