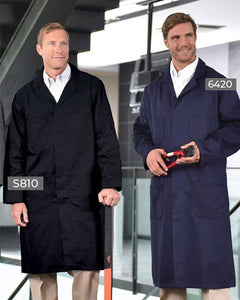 100% Cotton Shop Coat. 6420. 6425.
Regular price $56.95 Sale
An excellent combination of comfort and durable wear, in 100% cotton twill, makes this shop coat ideal for everything from customer service to industrial work environments.
100% Cotton 8.2-oz. Twill Fabric
Sizes range from XS-5XL
Style #: 6420 – Metal Buttons, 4 Pockets
Available in Navy, and Orange
Style #: 6425 – Metal Buttons, 3 Pockets
Only Available in Postman Blue with Navy Trim
(Not Pictured)
Click HERE to contact us about a custom order
Discount on volume orders. Please enter information about your customization request in the email and a Jastex representative will contact you. If your request includes an image please attach it in vector format if possible.